OBITUARY: MARCIN KORNAK
The entire CAFE team was deeply saddened to learn of the recent passing of Marcin Kornak at the age of 46.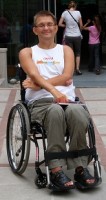 Marcin was the co-founder and Chairman of the Never Again Association in Poland, as well as a CAFE Ambassador. He was a wheelchair user and a strong activist against discrimination and hate crime. Marcin was also a renowned poet and lyricist.
In 2011, Polish President Bronisław Komorowski awarded Marcin with the Officer's Cross of the Order of Polonia Restituta – one of the highest honours in Poland. Marcin was also named as the 2012 Social Activist of the Year and received the Man without Barriers award - given to an outstanding disabled person who breaks down barriers and stereotypes and who is a positive role model in various walks of life.
CAFE Managing Director Joyce Cook said, 'This is devastating news – Marcin was a dear friend of CAFE and one of our ambassadors. Marcin will be so missed - it's a sad loss for us all. He was one of life's true heroes a champion in every respect'.
'We are sending our warmest thoughts and much love to Marcin's family, friends and colleagues. He will be sadly missed by so many people in Poland and Europe for his years of dedicated campaigning for human rights and disabled people. God bless you Marcin – it was an absolute honour to know you'.
Marcin Kornak – 1968-2014.