EUROPE'S BIGGEST FESTIVAL PROMOTES ANTI-RACISM
4 August 2013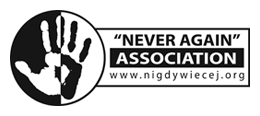 The anti-racist message of the 'NEVER AGAIN' Association was at the heart of Europe's largest music festival which brought together 500,000 people on 1-4 August 2013. The free open-air 'Polish Woodstock' festival took place in Kostrzyn on the Polish-German border.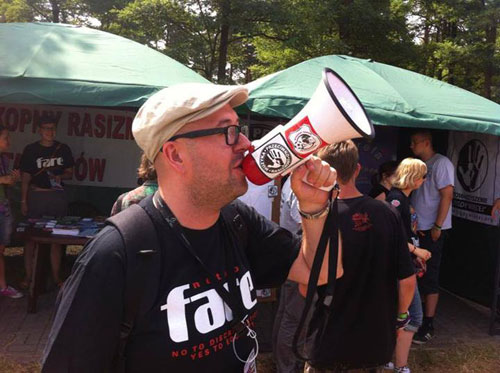 The event started by a minute of silence to commemorate those who had died during the anti-nazi Warsaw Uprising on 1 August 1944. Alongside numerous Polish stars, bands like Leningrad from Russia, Atari Teenage Riot from Germany and Kaiser Chiefs from the UK played for the massive audience. The 'Polish Woodstock' festival prides itself on the friendly atmosphere and its educational value, too.
Throughout the festival, numerous musicians declared their support for 'NEVER AGAIN' during their concerts - and demonstrated solidarity in response to the recent growth of far-right activity and hate crimes in Poland.
Giant screens on both sides of the main stage repeatedly displayed the 'NEVER AGAIN' Association symbols and information about its campaigns. In addition, the 'NEVER AGAIN' members were invited to present their activity on the main stage during the climax of the last night's concert.
Major activities organized by the 'NEVER AGAIN' Association at the festival site included a football tournament under the motto 'Let's Kick Racism out of the Stadiums'. Players from all over Poland as well as other countries, including Russia, Ukraine, and Germany, participated in the games. They were joined by a star team of 'Project Integration', composed of African-born footballers from various Polish clubs, invited to the event by the 'NEVER AGAIN' Association.
As part of its focus combining music and sports with education, the 'NEVER AGAIN' Association organized workshops, presentations and discussions about xenophobia, discrimination and multiculturalism at its multi-lingual info-stand throughout the festival. Each day thousands of young people visited the 'NEVER AGAIN' info-stand, talked about the message and received anti-racist educational materials.
The 'NEVER AGAIN' Association is an independent anti-racist educational and monitoring organization established in Poland in 1996. In 2009, in cooperation with UEFA and the FARE network 'NEVER AGAIN' set up the East Europe Monitoring Centre documenting racism and xenophobia across the region.
More information:
www.nigdywiecej.org
www.facebook.com/respect.diversity